Robert H. Willis, Jr. (partner)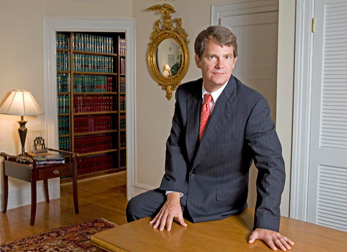 ---
EDUCATION:
Harvard Law School, Cambridge, Massachusetts
1985 Juris Doctor, Cum Laude
St. Andrews University, Fife, Scotland
1981-82 Rotary Foundation Educational Award
Washington & Lee University, Lexington, Virginia
1981 Bachelor of Science, Summa Cum Laude, English major
Phi Beta Kappa
Student Body President
Student Representative on Board of Trustees
Algernon Sydney Sullivan Medallion, 1981
–  First W&L Student to Receive Faculty's & Students' Highest Honors for Achievement and Service
Omicron Delta Kappa, Alpha Chapter
–  Student Director of National ODK
Shorecrest Preparatory School, St. Petersburg, Florida
1977 Honors Graduate
Recipient of Faculty's Outstanding Student Award
Student Body President
Shorecrest Athletic Hall of Fame
PROFESSION:
Skelton, Willis & Wallace, LLP, St. Petersburg, Florida (since 1987)
Martindale AV-Rated (Highest Available Rating)
Florida Supreme Court, Tallahassee, Florida (1985-87)
Law Clerk for the Honorable Justice Ben F. Overton
Chapman Tripp, Barristers & Solicitors, Wellington, New Zealand (1984)
PROFESSIONAL ADVANCEMENTS, AFFILIATIONS & PUBLICATIONS:
AIJA, Association Internationale Des Jeunes Avocats
United States Reporter for Family & Estate Law Commission
Off-Shore Family Fortunes (Edinburgh, 2003 Congress)
Get My Money, Get My Child: Evidence Management (Napoli, 2004 Congress)
ABA, National Graduate Trust School, Northwestern University, Evanston, Illinois (2005-06)
Florida Bar Appellate Rules Committee (1991-94)
–  Florida Supreme Court and Florida Bar Association committee of judges and attorneys responsible for recommending amendments to Florida Appellate Court Rules.
Florida Bar Grievance Committee, Sixth Judicial Circuit (1993-96)
–  Florida Supreme Court and Florida Bar Association committee of lawyers and non-lawyers responsible for investigating possible lawyer misconduct.
Florida Bar Unlicensed Practice of Law Committee, Sixth Judicial Circuit (1988-93)
–  Florida Bar Association Committee responsible for investigating persons in Pinellas and Pasco Counties, Florida, allegedly practicing law without a license.
Florida Bar Annual Convention Committee,
Vice-Chair (1994-95)
–  Florida Bar Association Committee assists the Florida Bar President in planning annual meeting for approximately 50,000 members of Florida Bar.
Probate Law Committee, Real Property, Probate & Trust Section of The Florida Bar (1990-98)
–  Committee reviews and proposes amendments to Florida Probate Code.
Pinellas County Inns of Court
Charter and Barrister Member (1988-94)
Past Member Associate (1995-1997)
–  Non-profit organization dedicated to promoting excellence, civility, professionalism and ethics within the legal profession, especially in litigation areas.
St. Petersburg Bar Association
Executive Board (1993-96)
Chair, Real Property Section (1996-97)
Chair, Membership Committee (1991-93)
Community Law Program Volunteer
–  Non-profit organization to provide free legal services to indigent residents of Pinellas County.
Stetson University College of Law
–  Guest lecturer in topics of estate planning, real property, commercial transactions and acquisitions.
National Business Institute
–  Continuing education lecturer in topics of probate and trust litigation.
ADMITTED:
United States Supreme Court (1996)
United States Court of Appeals, Fifth Circuit (1985)
United States District Court, Middle District of Florida (1985)
State of Florida (1985)
OTHER AFFILIATIONS:
Sabal Trust Company
Board of Directors (since 2003)
General Counsel
–  Sabal Trust Company is the largest independent state chartered trust company in the State of Florida with assets under management of almost $1.5 billion dollars.
Ark Royal Insurance Company
Board of Directors (since inception of 2007)
Corporate Secretary
–  Ark Royal Underwriters, LLC,  and Ark Royal Insurance Company,  a state chartered insurance company, are wholly owned subsidiaries of Ark Royal Holdings, LLC. The property & casualty insurance company insures now almost 2%of Florida's policies in force within the personal & commercial residential market.
Working Ox Capital, LLC
Principal & Manager (since inception in 2011)
–  Working Ox Capital provides equipment leasing and financing especially in the metal fabrication and robotic welding industry.
Hancock Bank/Whitney Bank
Tampa Bay Advisory Board of Directors (2007-12)
–  Whitney Holding Corp., acquired Signature Financial Holdings, Inc., in March, 2007. Hancock Bank acquired the New Orleans-based Whitney Bank in 2011.
Signature Bank
Board of Directors (1999 – 2007)
Corporate Secretary
–  Signature Bank, a state chartered banking corporation, was a wholly owned subsidiary of Signature Financial Holdings, Inc., with offices in Pinellas County, Florida.
Citizens First Trust Company (2004-08)
General Counsel
–  CFTC provided investment management and trust services in The Villages, Florida.
COMMUNITY  INVOLVEMENT:
Salvador Dali Museum Board of Trustees
Board of Trustees (since 2006)
–  Only Three-Star Michelin rated (highest) museum in the southern United States of America.
BSA, West Central Florida Council Member (since 1967)
Scout Council President (2000-2002)
Scout Council Executive Board (1989 to date)
Shorecrest Preparatory School, St. Petersburg, Florida
Board of Trustees (1989 to 1996, 1999 to 2007)
St. Petersburg Commission on Aging (1990-92)
Vice-Chair (1992)
Chair, Legislative Committee (1991-92)
–  Appointed by Mayor of the City of St. Petersburg, the Commission advocates and advise on needs of elderly, including recommendations relating to federal and state legislation.
St. Petersburg Downtown Rotary Club (1990-96)
Pinellas County United Way Campaign
Executive Volunteer (1988-94)
Pier Aquarium, Inc.,
Board of Directors (1988-91)
Secretary/Treasurer
–  Involved in creation, funding and expansion of aquarium project which is centerpiece of St. Petersburg Municipal Pier; coordinated activities of the project with Bay Area Research Consortium, which promotes sharing of marine science resources.
Suncoasters (1990 to 2008)
Legal & By-laws Committee
–  Organization sponsors and administers St. Petersburg Sunshine Festival of States
Washington & Lee Alumni Scholarship Committee (1987-89)
YMCA of St. Petersburg Neighbor-to-Neighbor Program
Meals-on-Wheels Delivery Volunteer (1985-87)
BORN:  St. Petersburg, Florida